Add: EAST OF TAIDONG ROAD,TAIAN,SHANGDONG,CHINA
Tel: 86-538-8565299
Fax: 86-538-8565299
Email: inquiry@cncadeer.com doris@cncadeer.com
Rubber tracked robot chassis/robot undercarriage
Your position: Home > Rubber tracked robot chassis/robot undercarriage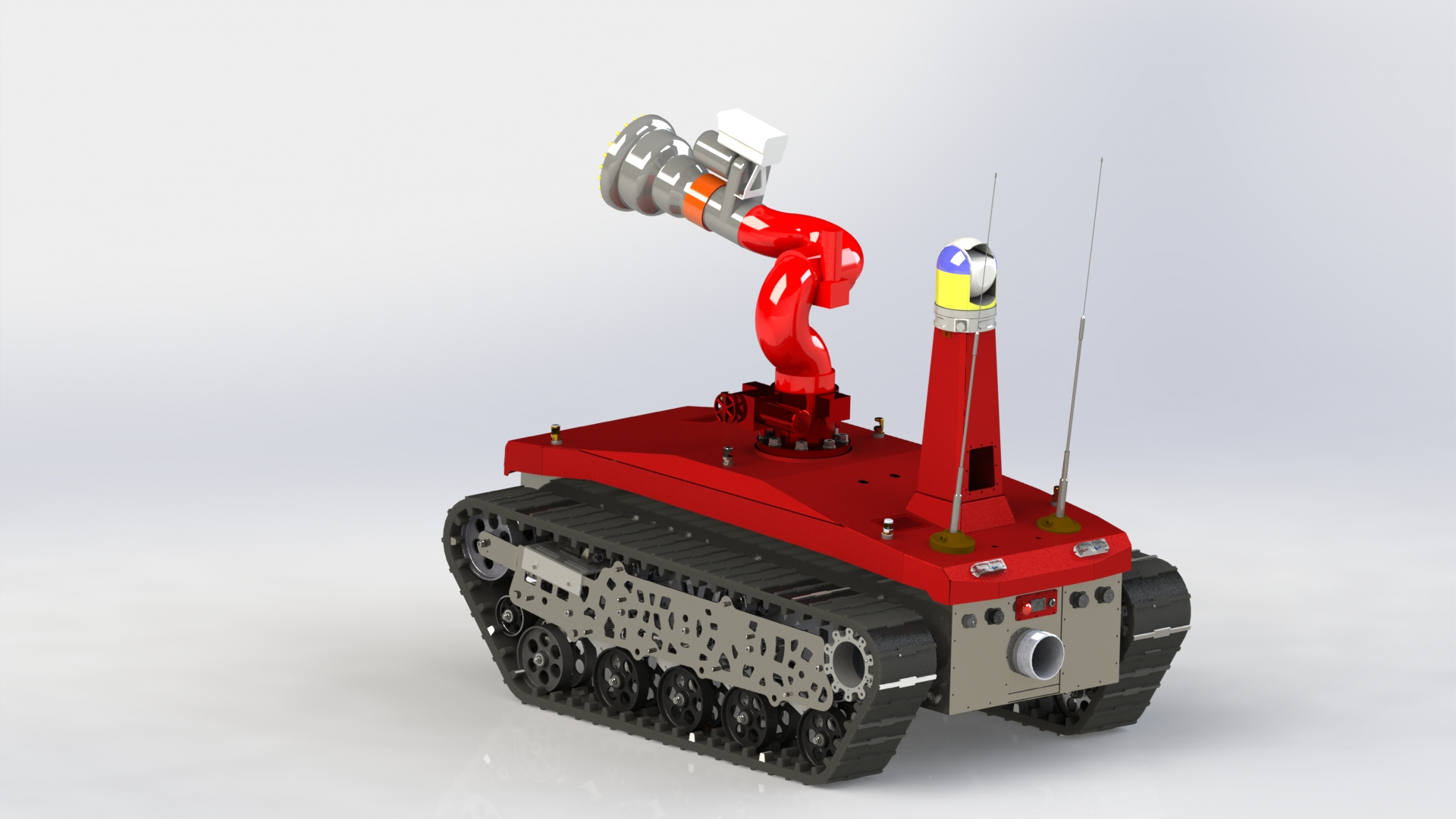 TX1500 Crawler fire fighting robot
TX1500 Crawler fire fighting robot
Product description: TX1500 Crawler fire fighting robot, Wheeled robot chassis
Product introduction
TX1500
Crawler fire fighting robot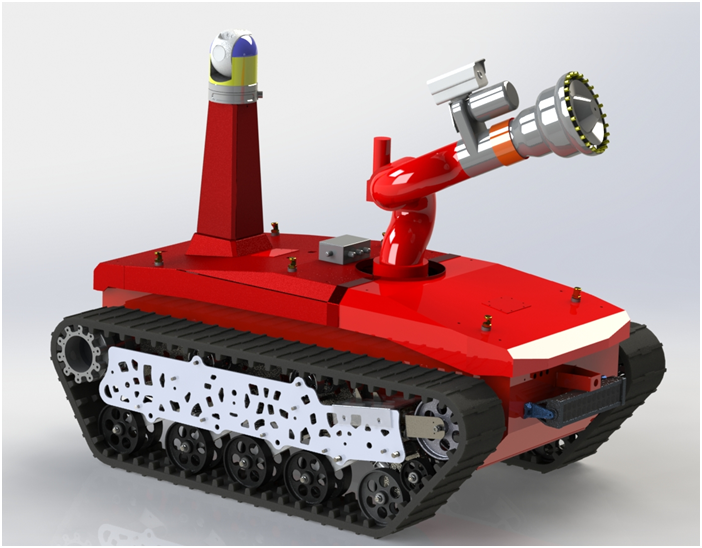 Basic Parameters
| | | | |
| --- | --- | --- | --- |
| Index | Parameter | Index | Parameter |
| Design Size: | 1630*1000*600(mm) | Rated Speed | 6.00KM/h |
| Chassis weight | 280(KG) | rated load | 200KG |
| Main Material | Stainless Steel 304/Alloy Steel Plate/Aluminum | Rated torque | 93.8N.M |
| Inner bin size | 750*490*200 | Ground clearance | 180mm |
| Track width | 180mm | Maximum over | 220mm |
| Track material | High quality rubber embedded Kevlar fiber | Maximum climbing | 50﹪ |
| Reducer | Planetary secondary bevel gear reduction | Maximum span | 460mm |
| Reduction ratio | 1:20 | Grounding pressure | 24.5KPa |
| Motor | 48VDC brushless servo | Protection Class | IP65 |
| Rated power | 1500W*2 | Surface treatment | Black spray (matte) |
| Wading depth | 200mm | Control method | remote control |
Product features
• Applicable to a variety of water supply systems such as fire trucks and municipal fire water.
• Independent suspension damping system for high impact resistance. The crawler type walking mechanism has strong obstacle-obstacle ability and adapts to complex terrain.
• The system is designed for high temperature resistance and comes with a water curtain self-spray cooling device.
• Remote control of fire cannon swing, pitch, automatic sweep, multiple spray methods;
• HD wireless image transmission system (optional) for remote real-time video surveillance;
• Adopt advanced wireless communication technology, with long communication distance and strong anti-interference;
• Strong maneuverability, fast moving speed and adjustable speed;
• Autonomous obstacle avoidance function (optional): The obstacle avoidance system automatically recognizes the obstacle distance, has high sensitivity, and has a long detection distance.
• Strong mobility and fast movement;
• High energy density lithium battery power supply, rechargeable and replaceable;
• Equipped with environmental detection sensors to detect gas concentrations at different heights;
• The operator interface is intuitive and easy to operate.
Water cannon parameters:
PSKD70~100W Electronically controlled fire water cannon
* Long range, concentrated jet, large protection area, remote control distance
* Flexible and convenient operation, the gun body can be used for horizontal and vertical rotation
* Water cannon has flowering and DC function
* Suitable for fire trucks, fire boats, fixed fire turrets and fire pipes
* Fire cannon controller with continuous overload capability, overload power 180W
* With internal voltage disconnection to protect the board when the voltage is higher than 29V and lower than 19V
* The main specifications and performance parameters are in compliance with the requirements of the People's Republic of China Standard GB19156-2003 "General Technical Conditions for Fire Cannons"
Main Parameters
| | | | | | | | |
| --- | --- | --- | --- | --- | --- | --- | --- |
| Model | Flow(L/S) | Range(M) | Working Pressure(Mpa) | Pitch Rotation(°) | Horizontal Rotation(°) | Length × Width × Height(Mm) | Weight(Kg) |
| PSKD70W | 70 | ≥80 | ≤0.8 | -30~+70 | 0~360 | 700×400×500 | ≤50 |
| PSKD80W | 80 | ≥85 | ≤0.8 | -30~+70 | 0~360 | 700×400×500 | ≤50 |
Control and smart device
Camera: visible light + night vision + infrared thermal image (video wireless image transmission) (optional)
Lighting device: lighting (about 3-4, power 10W or so, depending on the specific situation)
Control form: wireless remote control
Wireless control distance: ≥700m (visual environment); non-visual environment ≥200 (non-visual environment)
Environmental awareness: temperature and humidity sensor, radar (optional)
Self-protection device: body automatic water spray protection system