Add: EAST OF TAIDONG ROAD,TAIAN,SHANGDONG,CHINA
Tel: 86-538-8565299
Fax: 86-538-8565299
Email: inquiry@cncadeer.com doris@cncadeer.com
Rubber tracked robot chassis/robot undercarriage
Your position: Home > Rubber tracked robot chassis/robot undercarriage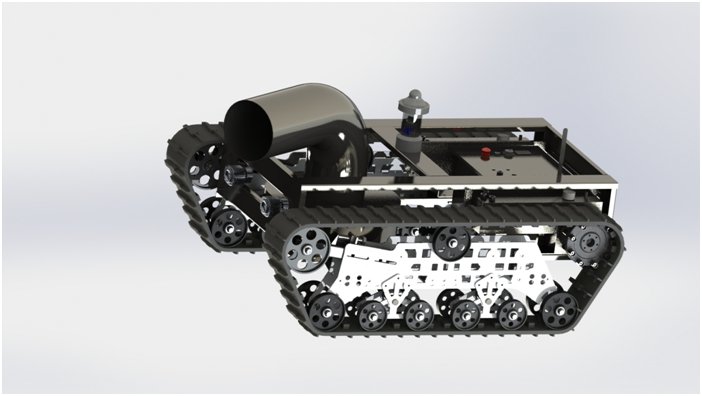 TX150-1200 Submersible robot chassis
TX150-1200 Submersible robot chassis
Product description: TX150-1200 Submersible robot chassis
Product introduction
TX150-1200
Submersible robot chassis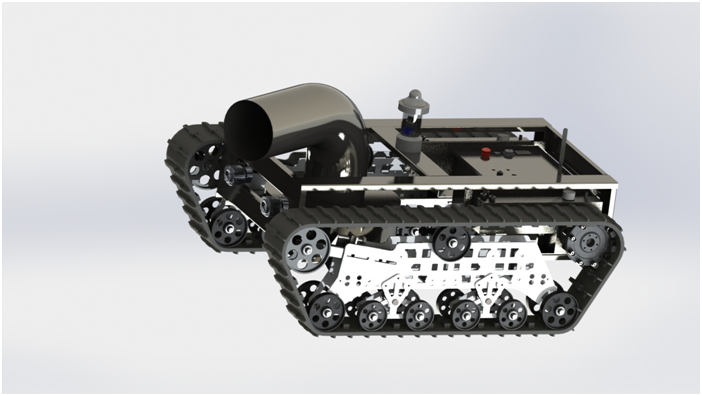 The product is mainly used for underwater video detection in freshwater environment. It is designed according to the parameters of underwater deep diving of 10 meters (pressure 0.1MPa). The parameters are as follows. Emphasis is placed on adapting to underwater sediment, water plants and underwater pressure and sealing requirements. The utility model adopts a streamer above the water surface for cable transmission control signals, and a traction tow hook, a fixed cable and a steel wire tow rope are installed before and after the vehicle body.
Chassis part:
1. The size of the chassis is controlled by the length of 1200mm, the width of 1000mm, the height of 470mm.
2, split sealed warehouse structure, open frame body.
3. Motor reducer and driver adopt pressure-proof sealing structure
4, protection level: 10m under deep diving
5, driving speed: 0.53M / s
6, the overall weight control within 200KG
7, obstacle height: 280mm (ground)
8, using rubber track 150mm width, embedded Kevlar fiber
9, 180mm off the ground, can adapt to the mud around 150mm underwater.
10, reserve all kinds of hardware and software interfaces, easy to upload and control development, closed loop or open loop design
11. Power supply: Power supply above the water surface, connected by cable. Built-in lithium battery, battery life is about 1 hour.
12. Driver: Intelligent dual DC brushless driver for main motor JCDBL4850-2E
13, industrial remote control, cable transmission signal.
Product features
1. The shell adopts integral sealing and pressure underwater transmission, and the components are pressure-resistant, waterproof and anti-corrosion components.
2. The power output of the chassis part is equipped with DC brushless motor and planetary reducer. The motor speed is 3000rpm, 48V-785W, the reduction ratio of the reducer is about 1:60, and the walking speed is 1.9KM/h.
3. The driving wheel is made of nylon material, the roller is made of aluminum, and electrophoresis is used to effectively prevent corrosion.
4, using nylon glass bearings, nylon drive wheels, stainless steel body frame and other materials, fully consider the underwater operating environment.
Basic Parameters
Chassis
Design Size:

1200*1000*470mm

Operating Speed:

0~1.9KM/H

Driving Wheel

's

Diameter

:

160mm

Track Material

150mm High Quality Rubber Track

Main Material:

Stainless Steel 304/Alloy Steel Plate/Aluminum

Protection Level:

Underwater 100m

Signal Transmission:

Streamer Connection

Surface Treatment:

Spray / Spray Paint

Rated Power:

785W*2

Design Load:

150KG

Motor Selection:

48V DC Brushless Motor

Rated Torque:

156NM*2

Reduction Ratio:

1:60

Maximum Span:

400mm

Maximum Obstacle:

280mm

Maximum Climbing:

≤30%
Power
01、Motor Reducer
02. Driver
JCDBL6050-2E:48V50A Dual driver
KYDBL6050-2E is a smart DC brushless single motor controller. The controller uses a high-performance 32-bit MCU, advanced motion control algorithms, and external quadrature encoder inputs to complete motor motion at open-loop and closed-loop speeds and closed-loop torques. The controller has multiple analog input ports, pulse input ports, and digital I/O ports that can be redefined by dedicated software. General RS232, CAN bus serial communication, USB communication, can be widely used for automation.
3、Recommended battery capacity and dimensions
1, Battery Parameters: 48V30AH, imported batteries.
2, Installation Method: body built.
3. Dimensions: 510*150*80(mm)
4. Rated Current: no less than 35A,